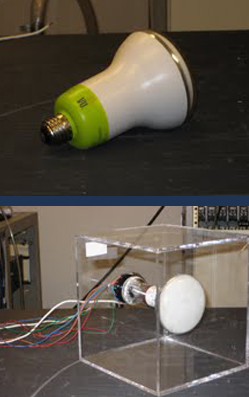 Exciting Development: UC Davis Research Finds Its Way Into The Lighting Market
Research headed by Prof. Charles E. Hunt and the Vacuum Microelectronics Research Group has broken into the Energy-Efficient Lighting market. On October 7,2010, Vul Corporation, a publicly-traded (vuoc) California Company with offices in Seattle and New York, announced having received Underwriters Laboratories Certification on their energy-efficient R-30 product. The product, which is manufactured in the Czech Republic, is a direct replacement for the highly inefficient incandescent R-30 popularly used in downlights, especially in California. The lamp uses less than 1/3 the energy of the incandescent lamp, and lasts five times as long. Unlike fluorescent lamps, it contains no mercury, has high-quality color rendering, is fully dimmable, and operates instant on/off. Unlike LED lamps, this new lamp is comparatively inexpensive, has low glare, dissipates modest amounts of heat, and has none of the spectral qualities (which exist in nitrided-semiconductor LEDs) implicated in possible human health hazards. Vul has patented and trademarked the unique technology, called Electron-Stimulated Luminescence (ESL.) Vul will commence delivery on its initial orders as soon as possible.
The new technology builds on technology researched and developed at UC Davis by members of Prof. Hunt's Team, including Dr. Andrei Chakhovskoi, Dr. Nikolai N. Chubun, (former MS student) Mitchell Cao, Dr. Rebecca Chacon, and Mr. David Zihi.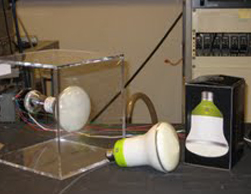 The photos show proof of a principle lamp tested at UC Davis (by David Zihi), and the recently released Vul product.
Relevant publications on contributing technologies include:
On Phosphors:
– N. N. Chubun, A. G. Chakhovskoi, and C.E. Hunt. EFFICIENCY OF CATHODOLUMIESCENT PHOSPHORS FOR A FIELD-EMISSION LIGHT SOURCE APPLICATION. Journal of Vacuum Science & Technology B (Microelectronics and Nanometer Structures), Vol. 21, No.4, pp. 1618-1621 (2003)
On Lamp technology:
– A.G. Chakhovskoi, C.E. Hunt, G. Forsberg, T. Nilsson, and P. Persson. RETICULATED VITREOUS CARBON EMISSION CATHODES FOR LIGHT SOURCE APPLICATIONS. Journal of Vacuum Science and Technology -B, Vol. 21 (1), p. 5
– M. M. Cao, R. J. Chacon and C.E. Hunt. A FIELD EMISSION LIGHT SOURCE USING A RETICULATED VITREOUS CARBON (RVC) CATHODE AND CATHODOLUMINESCENT PHOSPHORS. Submitted to IEEE Journal of Display Technology (2010)