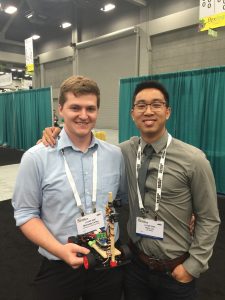 June 8, 2016
Team 'Drift to Win', composed of ECE undergraduate students Nick Carley and Harry Liu (left to right), raced their autonomous model car to victory in the NXP Cup North America 2016 Finals last week at the Design Automation Conference in Austin, Texas. The top two teams from each of the three US regional competitions met in a race to determine the North American champion. The finalists were from Rochester Institute of Technology (Eastern Region), the University of Texas, San Antonio (Central Region), and UC Davis (Western Region). Team Drift aggressively sped through the course to claim a narrow victory over a very competitive field.
In April, UC Davis team '1010+', composed of David Gonzalez and Joe Hennis, and 'Drift to Win' qualified for the NXP Cup North America Final by placing first and second, respectively, out of a field of 15 teams in the NXP Cup Western Regional competition held at UC Davis on Picnic Day.  Team '1010+' also competed in the NXP Cup North America Finals but their car failed to complete the course.
In the NXP Cup competition (formerly known as the Freescale Cup), students design and build an autonomous model car which relies on optical sensors, a small microcomputer, and student-developed software to navigate a complex racetrack. The fastest car to complete the course wins. The competition is sponsored by NXP.
Team 'Drift to Win' developed their car as part of the ECE Department's Autonomous Vehicle senior design project course. UC Davis defended its title in the event as UC Davis' Team Dinky was the North America Freescale Cup champion in 2015.
Please join us in congratulating Nick, Harry, David and Joe on this achievement!
To view the winning race visit here. For more results and pictures visit here.