ECE's Saman Ashkiani wins one of five NVIDIA Graduate Fellowships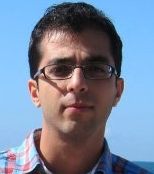 April 7, 2016
The Department of Electrical and Computer Engineering would like to congratulate Saman Ashkiani, a Ph.D. student in Professor John Owens group, for being 1 of 5 recipients of the 2016 NVIDIA Graduate Fellowship. This is a $25,000 award to be used to further his research on design and implementation of dynamic data structures suitable for massively parallel machines including GPUs.
To read more about the 2016 NVIDIA Graduate Fellowship recipients visit here.