By Hannah Fong
DAVIS, Calif.; Nov. 30, 2017–John Owens, a professor of electrical and computer engineering at UC Davis, has been named as one of the 43 ACM distinguished members of 2017.  ACM, the Association of Computer Machinery, is "the world's largest educational and scientific computing society."  Every year since 2006, the association selects seasoned individuals who have made significant contributions to the field of computing.  There are currently over 500 total Distinguished Members from around the globe recognized by ACM for their accomplishments.  
Owens is a professor at UC Davis for over 14 years.  In addition to teaching courses such as graphics architecture and modern parallel computing here at UC Davis, he also teaches an online course on Udacity on the the topic of parallel computing.  He has over 100 publications and is also an NVIDIA CUDA Fellow, named in May 2012.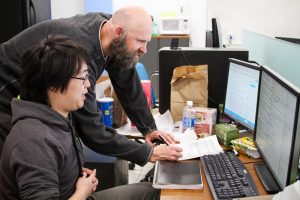 Although he has many accomplishments of his own, Owens is most proud when his "students grow into world-class researchers" while at UC Davis, and is just as proud when the same students "continue their amazing achievements after they graduate and move on to new challenges."
His influence is impressed upon those he works with and teaches.  Currently, Owens' research group interests lie "in designing, analyzing, and building high-performance applications on modern parallel computers like the graphics processor (GPU)."
Working in Owens's research group is "a wonderful experience," according to Muhammed Awad, who started the PhD program in Fall 2016.  "How he manages his group, always puts his students' interests first, and supports them make him a great role model."  
"When working with John, I'll never go to the wrong direction in research," says Leyuan Wang, who started the PhD program in Winter 2013.  "He always has the right vision and his guidance is very professional."  
He has the ability to "illustrate complicated knowledge into simple words," a quality many students search for in a professor.   
Owens's influence shines through the accomplishments of members from his research group.   Awad presented a paper he first authorized himself during his first year as a PhD student.  Wang contributed to a state-of-the-art primitive, called a suffix array, to the CUDPP library.  The paper for this contribution was accepted to Euro-Par'15 and selected as one of the two distinguished papers of 51 accepted papers, scoring Wang an interview with Nvidia Parallel Forall.  Wang notes that the work recognized was not possible without the help and guidance from Owens.
When asked about his reaction and thought for this recognition, the word that comes to mind for Owens is gratitude.  He is appreciative to "all of [his] collaborators — especially [his] students — and colleagues who have helped the group do the great work that led to this recognition."  
"I'm humbled and thankful when students choose UC Davis and our group to pursue graduate study and appreciate very much the hard work, collaboration, and collegiality they collectively exhibit day-in and day-out. They're absolutely the best part of my job!"
Congratulations again to Professor John Owens on his recent naming as a 2017 Distinguished Member of ACM.  
View the full list of the 2017 Distinguished Members here.
To learn more about Professor Owens, you can visit his website here.