By Bonnie Dickson and Hannah Fong
DAVIS, Calif.; Feb. 8, 2018 – On Friday, January 19, electrical and computer engineering alumni Margie Evashenk, Katherine Ferrara and Francis Lee were recognized with the College of Engineering's Distinguished Engineering Alumni Medal. DEAM recipients are UC Davis engineering graduates with 15 or more years of professional experience; have a record of outstanding professional or technical achievement; have rendered distinguished service to the College of Engineering, the engineering profession or the community; and have contributed in a significant way to the reputation of UC Davis. The ECE alumni were among five distinguished engineering alumni who were recognized at the college's annual alumni celebration at the Mondavi Center.  The other recipients include Brian Horsfield, B.S. Mechanical Engineering, '66, M.S. Engineering, '68, D.Engr., '71, and Adam Steltzner, B.S. Mechanical Engineering, '90.
Prior to the college's alumni celebration, the Electrical and Computer Engineering Department invited Evashenk, Ferrara and Lee to Kemper Hall to connect with current and emeritus faculty and staff. In a discussion led by Professor Chen-Nee Chuah and Department Chair Saif Islam, Evashenk, Ferrara and Lee shared their perspectives and ideas on how to prepare today's students for a career in industry, and how to continue to engage undergraduate engineering students in hands-on research opportunities. Evashenk, who graduated from UC Davis with a bachelor's in electrical engineering in 1989, stressed the value of programming experience for ECE students as they prepare to enter the workforce.
Evashenk is a successful engineering management consultant in Silicon Valley, with more than 25 years in high-tech, focusing on enterprise storage and networking, artificial intelligence, venture capital and growing new businesses. She is also a mentor for ECE senior Sonia Krishna.
"Margie is an exceptionally brilliant and humble mentor," Krishna said. "She has accomplished every engineer's dream and has empowered me as a women engineer to grow in the technical world. I'm honored and beyond grateful she has always made time for me."
Evashenk has a wide range of industry experience, including co-founding the storage semiconductor start-up Sierra Logic and overseeing global engineering functions as a Senior Vice President and Chief Development Executive for the storage and networking company Emulex Corporation. She started her career in application-specific integrated circuit design and supply chain management at Hewlett-Packard, where she held various engineering and management positions.
Katherine Ferrara is a distinguished professor of biomedical engineering at UC Davis whose research has pioneered using ultrasound to image cancer and heart disease. Her laboratory is known for early work in aspects of ultrasonics and has more recently expanded their focus to broadly investigate molecular imaging and drug delivery.  
Ferrara received her bachelor's and master's degrees in electrical engineering from Sacramento State, and was a project engineer for General Electric Medical Systems, working on the development of magnetic resonance imaging and ultrasound systems, before completing her doctoral degree in electrical engineering at UC Davis. Ferrara was a faculty member at Sacramento State, Cornell University and the University of Virginia, Charlottesville, before returning to UC Davis in 1999 to lead the new division of biomedical engineering. In 2001, the division became a full department, with Ferrara as founding chair. She was principal investigator on a $12 million award from the Whitaker Foundation, which made the early expansion of the department possible. She was elected to the National Academy of Engineering in 2014.
Francis Lee graduated from UC Davis with a bachelor's degree in electrical engineering in 1974. In 1998, after two decades in industry, Lee became CEO of Synaptics, a position he held until 2009. Currently, Lee serves as Synaptics board chairman. During his tenure as CEO, he grew Synaptics from a small, private technology company to gain a commanding market share in interface devices in notebook computers and smartphones. Synaptics also pioneered the first clear industry capacitive touch solution in a private label Prada phone by LG Electronics and was the first technology IPO in 2002 in the NASDAQ market. Upon his retirement from management, his passions include education, healthcare, coaching and related philanthropic projects.
Besides supporting the College of Engineering as a member of the Dean's Executive Committee, he also serves on the Adesto Semiconductor and Resurge International Board. He is a member of the American Leadership Forum, the Philanthropic Workshop and a limited partner in Legacy Ventures.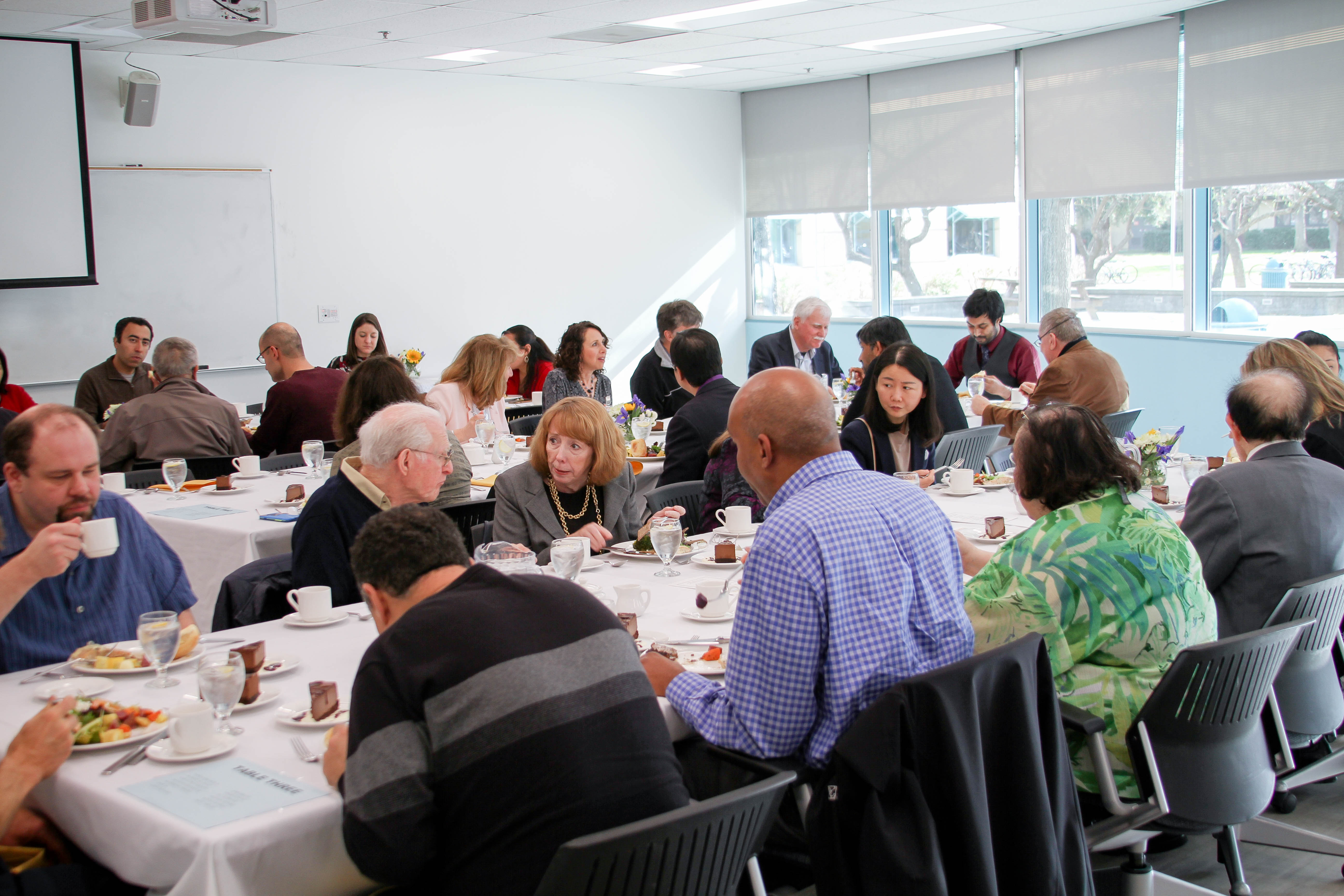 Also prior to the college's alumni celebration, the ECE Department faculty and staff enjoyed a time of lunch and fellowship with the recognized alumni as well as other special guests.  The alumni recipients, the Dean of the College of Engineering, Jennifer S. Curtis, and a few emeritus faculty members shared a few words of wisdom and personal experience, reminiscence, and what can be accomplished for the future.
After meeting with faculty, Evashenk also hosted a special workshop for students on professionalism and life skills.
The department congratulates Evashenk, Ferrara, and Lee on their recent award and for their accomplishments since graduating from UC Davis.  More information on the DEAM recipients is available on the College of Engineering's article.
Photos from the event are available on the College of Engineering Flickr page.