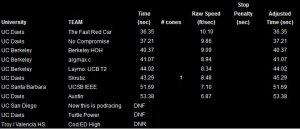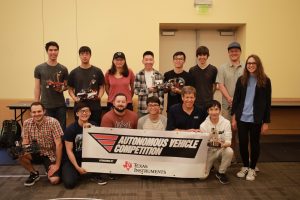 We are proud to announce that on Saturday May 11, The Fast Red Car, a UC Davis team consisting of Daniel Burr, William Gentry and Jimmy Hoang, narrowly defeated No Compromise, another UC Davis team consisting of Raul Oliva, Mark Posner and Yueming Zhou, to win the 26th annual Natcar competition on Saturday, May 11, 2019 at the UCD Arc Ballrooms. UC Davis captured 1st and 2nd place; UC Berkeley finished 3rd, 4th, and 5th. Teams for UC San Diego and UC Santa Barbara also competed in the event this year.
Please join me in congratulating and celebrating the achievement of the Natcar teams.
Natcar is a student design competition created in 1994 by Prof. Richard Spencer and engineers from National Semiconductor. Lance Halsted is the instructor of this popular ECE Senior Design Project now. Texas Instruments (TI) has been sponsoring the competition since National Semiconductor was acquired by TI in 2011. UC Berkeley has been a long-time partner in the event. Other UC campuses also regularly participates in this competition. There is a final competition in May, generally held at UC Davis, in which many schools compete. Teams design, build and race autonomous vehicles on a track marked by 1″-wide white tape. Originally, there was a wire carrying a 75 kHz sinusoidal signal under the tape and many teams sensed the magnetic field around the wire. Since 2016, we no longer provide the wire under the tape and the sensing must be done optically. The contest is intended for undergraduate students, but teams with graduate students, high-school students or student who have competed in a previous Natcar may attend the competition, although they will compete in a separate division.
–
Chair Saif Islam
Full Competition Highlights:
5/14/19
Article Published and Written By:
Adil Abbuthalha
Sr. Editor & Communications Specialist
Sumayya Shaik
Staff Writer