Best Paper Award for ECE Students at Healthy Buildings America 2015 Conference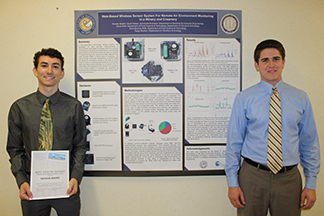 September 21, 2015
At the Healthy Buildings America conference in Boulder, Colorado, July 2015, UC Davis ECE students Nic Madrid and David Killeen received a best poster award for their research on "Web-Based Wireless Sensor System for Remote Air Environment Monitoring in a Commercial Winery." Healthy Buildings America is a forum run by the International Society of Indoor Air Quality and Climate (ISIAQ) for researchers and professionals to discuss the current state of indoor environments and the research being conducted to support healthy and sustainable buildings. The work reported on a sensor system that collects temperature, relative humidity, carbon dioxide, volatile organic components, and airborne particle data in real time at wineries and creameries in Northern California. The information collected is wirelessly transmitted to a gateway device that publishes the data to the cloud. The sensor system gives the users insight into current indoor air parameters enabling decision-making based on real-time events. The system design optimizes for low-energy and minimal maintenance. The research was recognized for demonstrating ISIAQ's goal of using advancing sciences and technologies to create healthier indoor environments. The research is performed under the supervision of professors André Knoesen, Department of Electrical and Computer Engineering, and in collaboration with Roger Boulton, Department of Viticulture and Enology and David Mills, Department of Food Science and Technology. Nic Madrid is a master's degree student and holds a T.J. Rodgers Fellowship in Electrical and Computer Engineering. David Killeen was an ECE student in his senior year. The research is supported by the Sloan Foundation and Cypress Semiconductor.
Please join us in congratulating Nic and David on their award!