Allen M. Peterson
Professor of Electrical Engineering, Emeritus.
(passed away August 17, 1994)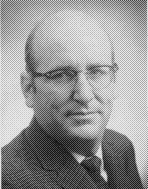 Research Areas
Digital Signal Processing
VLSI Design
Communications Systems
Radar Systems
Remote Sensing Systems
Education
B.Sc., Stanford University
M.Sc., Stanford University
Ph.D., Stanford University
Other Information
On Stanford faculty 1952-94.

Honors: National Academy of Engineering, IEEE Fellow.

Author of more than 100 technical papers.

Professional Activities: Director, Symetricom Corp.; Member, JASON Group (MITRE Corp.); Consultant SAIC Inc.; Member, NRC Panels; Past member, Naval Research Advisory Committee, Airforce Scientific Advisory Board, Voice of America Engineering Advisory Committee, NASA/JPL Advisory Council, White House Council Panels.

Stanford News Service News Release, August 22, 1994.

Stanford Historical Society Memorial Resolution.



---
Last update: July 23, 1996 webmaster@www-star.stanford.edu